The pumps are applied in different systems of NPP power units and designed for pumping out and feeding of process, chemical, neutral and aggressive mediums.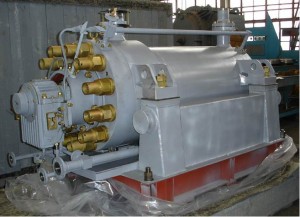 Cradle-mounted pumps – are centrifugal, single stage, horizontal with forged or cast casing.
Material of casing – is austenitic or carbon steel.
Electric motor is used as a pump drive. Motor and pump shafts are connected with flexible plate coupling or pin coupling.
Rotor shaft is sealed with mechanical end seal. Axial forces are balanced by devices connecting discharge and suction chambers of the pump.
Specification
Pump type
Capacity,
м3/hour
Нead,
m
Rotationak speed
(synchr.),
rpm
Motor power
kW
Pump overall
dimensions,
mm
Pump
weight,
kg
Х-А 40-25-160К-5
6,3
40
3000
4
1024 х 310 x 457
150
Х-А 50-32-125К-5
12,5
20
3000
4
995 х 435 х 355
150
1Х 50-32-125К-5
6,3
20
3000
3
968 х416 х 344
130
АХ-А 50-32-200К-5
12,5
48
3000
15
1 400 х 520 х 348
290
АХ-А 50-32-250К-5
12,5
88
3000
22
1448 х 426 x 568
402
Х-А 65-50-160К-5
22
32
3000
11
1167 x 463 х 420
206
Х-А 65-40-315К-5
25
120
3000
30
1477 x 692 х 425
410
Х-А 80-65-160К-5
60
30
3000
15
1231 х 520 x 375
259
IX 80-65- 160К-5
50
20
3000
11
1253 х 520 x 482
230
2Х 80-65-160К-5
50
24,3
3000
22
1335 х 520 x 482
326
Х-А 80-50-200К-5
50
50
3000
30
1362 х 610 х 566
400
Х-А 80-50-250К-5
50
80
3000
55
1595 х 684 x 634
580
1-Х 80-50-250К-5
50
80
3000
30
1480 x 608 x 370
470
Х-А 100-65-160К-5
100
32
3000
30
1448 х 540 х 464
41
Х-А 100-65-200К-5
100
50
3000
55
1595 х 684 x 634
585
1-Х 100-65-200К-5
73
56
3000
30
1465 х 640 х 415
460
1-Х 100-65-315К-5
100
126
3000
75
1780 x 716 х770
865
Х-А 150-125-315К-5
180
32
1500
75
1875 х 844 х 675
900
X 200-150-315К-5
147
7
750
7,5
1697 х 635 х 937
519
1-Х 200-150-315К-5
200
10
1000
15
1777 х 635 х 937
561
1-Х 200-150-500К-5
300
80
1500
132
2800 х 110 x 937
1700
ТХ 280/72
280
72
1500
110
2260 х 700 х 1160
1480
ЦНА 100/50
100
50
3000
22
1620 x 711 х 410
550
ЦНА 100-50-2
100
50
3000
22
1620 х 712 х 445
510
АЦНА 100-50-3
102
52
3000
30
1465 х 640 х 470
500
АЦНА 100-50-4
100
50
3000
30
1465 х 640 х 415
440
ЦНА 25/52
25
52
3000
11
1360 x 518 х414
390
АЦНА 200-120
200
1 20
3000
110
2245 х 950 х 680
1360
ЦН 250-20
250
20
1500
22
1807 x 630 x 859
650
ЦН 6000-30
6048
30,6
1000
800
5170 x 2020 x 1780
11000
ЦНА 600-25
600
25
1000
75
2475 х 920 х 1350
2000
ЦН 400-40
400
40
1500
90
2605 х 1265 х 1160
1700
ЦН 420-45
420
45
1500
90
2225 x 670 x 915
1500
ЦН 2500-70
2500
70
8000
800
4290 х 1680 х 2405
12000
Х-А50-32-250К-5
8
51,5
3000
11
1303 x 355 x 561
258,5
АХ-А50-32-200К-5
12,5
48
3000
15
1320 x 355 х520
290
АХ-А40-25-160К-5
6,3
42
3000
7,5
1050 х 310 х 457
165
Х250-200-315Т
500
32
1500
90
2075 x 730 x 960
1010
---