Turbo-compressor packages
Turbo-compressor units are designed to compress and transfer natural gas with specified process parameters at compressor stations for gas mains, booster compressor stations (BCS) and underground gas storage (UGS).
The main advantages are as follows:
high efficiency and reliability;
correspondence to update environmental requirements;
serviceability in any climatic regions with ambient temperature
from -55°C to +45°°С;
complete factory readiness of units, delivered to compressor stations;
total automation of units;
high field maintainability of assemblies and units;
possibility to be equipped with heat recovery and other additional systems (heating and ventilation) providing service.
Depending on Customer's requirements turbo compressor units are delivered for different parameters of capacity, discharge pressure and compression ratio.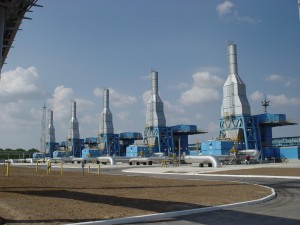 Unified basic compressor casings ensure obtaining customer specified parameters by setting up of changeable inner flowing parts with different number of stages. Compressor designs correspond to requirements of the American Petroleum Institute standard (API 617).
Reliable journal and thrust bearings with self-aligning shoes, unified in compliance with shaft diameter, are used in the compressors. Electromagnetic bearings are used in non-lubricated compressors.
End seals for compressor are of slot and oil sealing type as well as of two modifications:
with standard floating rings designed for usage at pressure up to 8 MPa;
with outside floating rings provided with additional journal bearing shoes designed for usage at higher pressure values.
As to Customer's requirement face gas and dynamic seals distinguished by easy servicing, high reliability, low power supply can be installed.
Usage of derivated gas turbine engines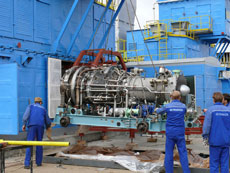 of aircraft or marine types as turbo-compressor package drives made it possible to create drive of compact design with relatively not large weight and overall dimensions as well as to provide automatic control of operating parameters for the turbocompressor engine at up-to-date level of effectiveness and high reliability.
As to Customer's requirement the unit is driven by the motor.
The turbo-compressor unit automatic control system (ACS) is realized on the basis of microprocessor facilities of new generation with colour monitors.ACS makes it possible to perform the following control actions:
turbocompressor package automatic start and shut down;
remote control for actuators;
control, measuring, recording and signalling for gas compression process parameters;
emergency protection of the package including record of information causing emergency shutdown;
antisurge control;
alarm signalling at non-allowed deviations to specified process parameters;
automatic signals about state of the package mechanisms;
automatic start and stop of the package stand-by units;
control of the package protection systems while operating and non-operating conditions;
executive mechanisms circuit control;
communication with compressor station central control systems;
Diagnostic monitoring of the unit systems availability in action.
---