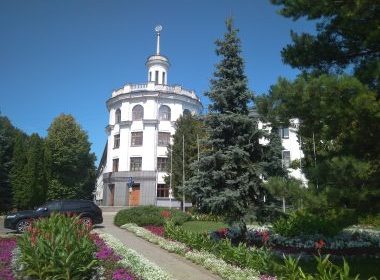 By the decision of the Supervisory Board of the company, Mr. Vladimir Lukyanenko, who until then was the acting general director, was elected General Director. And during the annual General Meeting of Shareholders a decision to change the type and name of the company was made, and a new version of its Charter was approved.
From now on, Public Joint Stock Company "Sumy Machine-building Science-and-Production Association" will be called Joint-Stock Company "Sumy Machine-building Science-and-Production Association". The abbreviated name of Sumy NPO JSC. The type of society has also been changed from public to private.
The changes are primarily associated with bringing the company's activities in line with the requirements of the Law of Ukraine "On Joint-Stock Companies".
On November 16, 2017, Verkhovna Rada of Ukraine adopted Law No. 221-VIII "On Amending Certain Legislative Acts of Ukraine (Concerning the Simplification of Doing Business and Attracting Investments by Issuers of Securities)". This law introduced the requirements of the European directives on corporate governance and company activities into national legislation and improved it in issues of issuing securities, disclosing information on the Ukrainian stock market and providing information services.
Earlier in the legislation, distribution of joint-stock companies into public and private was carried out according to formal criteria. So, for companies in which there were more than 100 shareholders, the legislation put forward a requirement to apply the form of "public joint-stock company". While in European practice, companies that made a public offering of their securities are considered public. Any other criteria cannot be used to call a company public or private. Thus, the law solves the problem of "pseudo-publicity" of most public joint-stock companies. After the entry into force of this law, only issuers whose securities as of January 1, 2018 are listed on the stock exchange (stock exchange register) are considered public.