The reciprocating compressor that PJSC «Sumy NPO» is manufacturing by CPI-GEORGIA (Georgia) order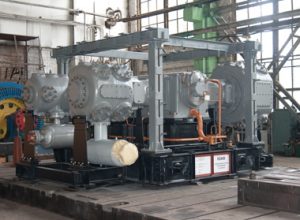 , is in the final stage of production. In the near future, the products will go to the place of its further operation.
According to Peter Shlemich, the enterprise senior sales manager, Sumy NPO committed itself to design, manufacture and supply reciprocating compressor with 630 kW synchronous motor. Equipment will be used in the air separation and liquid oxygen and nitrogen production plant.
Incidentally, CPI-GEORGIA is the only company in the CIS, specializing in the production of isotopes for medical purposes, and nuclear energy. This is continuous production, so the time for troubleshooting is not enough. To avoid unforeseen situations, Georgian partners have requested to produce one unit to replace the current one.
"Sumy NPO has had extensive experience with the foreign company for almost 20 years. For example, in 2000, the association supplied two compressors 4VM10-55 / 71, almost every year the lots of spare parts to them are manufactured", – Peter Shlemich informs.