Cradle mounted chemical pumps
Cradle-mounted chemical pumps are designed for pumping of chemically active and neutral medium with hydrogen index pH 4…9 and temperature up to 70°C (for supply of oil, oil light products, chemically active and slightly aggressive liquids which may cause corrosion of pump inner flowing part material not more than 0.1 mm/year, and neutral liquids).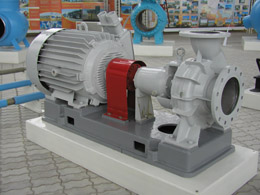 Pumps, inner flowing part of which is made of titanium, are designed for pumping of liquids with hydrogen index pH=2. Such pumps are applied in chemical, food, oil refining industries.
Design features:
centrifugal cradle-mounted single stage pumps with horizontal shaft and one-side axial water feed to impeller and vertical discharge;
impeller design provides maximal rotor load relief of axial force;
axial force arisen during wearing is compensated by mounting group;
rolling bearings work like supports;
shaft sealing – end sealing or sealing with soft packing gland;
pump unit can be equipped with any type of electric motor which parameters and modification meet operating conditions;
bearing lubrication – liquid or consistent grease;
in pumps with liquid grease control of oil level in crankcase mounting group is provided with constant level lubricator.
Cradle-mounted chemical pumps are manufactured of the following types:
---