Complete process line for weak nitric acid production
Designed for production of nitric acid from liquid ammonia and air.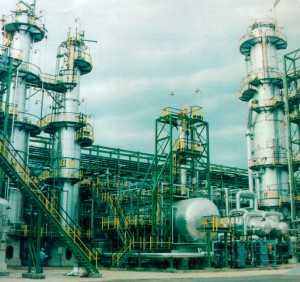 Production process is divided info four main stages:
ammonia conversion;
nitrous gases cooling;
nitrogen absorption;
exhaust gases catalytic purification.
The content of nitrogen oxides after catalytic purification corresponds to sanitary standards. During the production process the output of industrial steam, which can be used for technological purpose, occurs.
The process control is fully automated that has allowed to reduce up to the minimum an amount of serving staff to prove the optimum conditions of equipment operation. The start -up and shutdown of the line are made from the operator's desk.
Complete process line, containing about 40 items of main chemical equipment, was delivered for 29 Companies of former USSR, as well as Companies of Hungary and Bulgaria. High effectiveness and reliability of the apparatus allow to operate them for over 25 years.
Specification
Capacity, t/year
to 360000
Acid concentration, %
60
Cubical content of nitrogen
oxides in exhaust gases, %
  0,004 – 0,006
Great experience in manufacturing of the equipment for nitric acid production makes it possible to carry out the selection and production of apparatus for process lines, manufacturing on different designs and at different time. It also allows to carry out the modernization of available process lines and individual apparatus during overhaul.
---