Process equipment for distillate production
The equipment is designed to construct high-profitable, compact, low power-consuming, waste-free and ecologically afety works for distillate production with high level of mechanization and automation.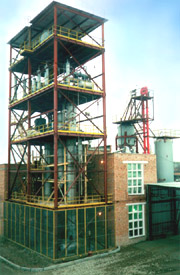 Cereals, root vegetables, containing starch, reed raw material as well as other agricultural products, containing sugar and starch erve as raw material for distillate production.
The experts of the Company have mastered the production of the whole range of plants with capacity of 100, 250, 500, 1000, 1500, 2000, 3000, 6000 dal/day. The works with the capacity of 100 and 250 dal/day operate as to cycling flow diagram, the works of over capacity operate as to continuous flow diagram.
The delivery scope comprises the following items:
different pressure vessels equipment, heat exchangers and column apparatus;
liquid-packed vacuum and chemical pumps of different capacity;
pipeline valves;
instruments, automation facilities and others.
Software is also in the delivery scope.
The main advantages are: waste-free and ecologically afety works, possibility of location at agricultural and processing fabrications, accompanying production of high-calorific feed with protein, yeast components and microelements higher content for cattle, possibility of industrial alcohol for explosion engine production.
Preliminary technological indices of works for distillate production:
Indices of of daily capacity
BК-100
BК-250
BК-500
BК-1000
BК-1500
BК-2000
Consumption of raw material, materials, power suppliers
Raw material
cereals (50 % of starch), t
3.1
7.75
15.5
31.0
46.5
62.0
Antiseptics
sulphuric acid (100%), kg
chlorinated lime, kg
2.3
2.5
5.75
6.25
11.5
12.5
23.0
25.0
34.5
37.5
46.0
50.0
Nutrients
carbamide, kg
ortho-phosphoric acid, kg
0.6
0.2
1.5
0.5
3.0
1.0
6.0
2.0
9.0
6.0
12.0
4.0
Ferment materials
thermamil, l
San-Super, l
0.31
1.53
0.78
3.83
1.55
7.65
3.1
15.3
4.65
23.0
6.2
30.6
Water
cooling, m3
drinking, m3
126
15
315
38
630
75
1260
150
1890
225
2520
300
Power suppliers
vapour (6 atma), t
electric power, kW/h
12
190
30
475
60
950
120
1900
180
2850
240
3800
Equipment
quantity, pcs
weight, t
90
32
122
69
134
97
142
148
150
198
185
400
Production area
factory building, m2
300
300
400
820
980
1150
Shift operating personnel:
workers, people engineering
and technical personnel, people
16
1
20
2
20
3
24
5
24
6
28
8
Products, by-products
Products
ethyl rectified alcohol of fine
refinement, dal
95.9
239.75
479.5
959.0
1438.5
1918.0
By-Products
head fraction of ethyl alcohol, dal
fusel oil, dal
grains, m3
3.0
0.3
12.0
7.5
0.75
30.0
15.0
1.5
60.0
30
3.0
120.0
45
4.5
180.0
60
6.0
240.0
---