Special-purpose pumps
Special purpose pumps are applied in special systems of NPP units with reactors VVER-1000 PBMK (coolant makeup system, aftercooling system, sprin¬kler system, fire fighting system).
Special purpose pumps are centrifugal, multi stage or with double-entry impeller, horizontal, with forged or cast casing.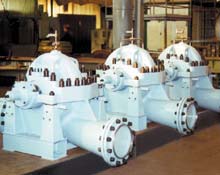 Casing material is austenitic steel. Electric motor is used as a pump drive. Motor and pump drive are connected by gear-type or flexible plate coupling.
Rotor of pump shaft is sealed by mechanical end seal. Axial force relief is compensated in most cases by hydraulic discharging device.
Specification
Pump type
Capacity,
м3/hour
Head,
m
Rotational speed
(synchr.),
rpm
Morot power,
kW
Pump overall
dimensions,
mm
Pump weight,
kg
ЦН 50-135
50
1320
9000
500
5145 х 1511 х 1345
10300
ЦН 60-180
60
1780
9000
800
5355 х 1511 х 1465
11030
АЦНА 25-180
25
1820
6000
400
4717 х 1565 x 1325
6300
АЦНА 60-185
60
1850
3000
800
4925 х 1500 х 1435
8390
АЦНА 60-185-1
60*
1613*
3000
800
4865 х 1360 х 1465
8520
ЦНА 125-80
125*
80*
3000
55
2380 х 1362 х 1710
1800
ЦНА 200-180
160*
145*
3000
110
2655 х 850 х 1650
2350
АЦНА 400-100
400
100
3000
315
3380 х 1350 х 1335
3115
АЦНА 400-100Е
300
80
2970
90
2650 х 1035 х 1205
2530
АЦНА 400-100-1
400*
90*
3000
160
2715 х 1200 х 1200
3430
Д800-56
800
56
1500
200
3090 х 960 х 918
3250
АЦНА 50-90
48,2
930
2976
315
3928 х 1285 х 1075
4500
ЦНСА 800-90
800
90
1500
250
1390 х 1125 х 1000
1800
* – at current frequency 49 Hz
---