Oversized stamping-welded articles designed for high pressure are widely used as connection parts of pipelines of gas main, booster and gas lift compressor stations, in gas refining production, during gas mains construction.
The experts of the company has designed optimum series covered the diameters of connected pipes from 57 to 1220 mm.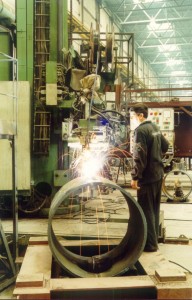 High quality low-alloy cold-resistant steels of 10A2OA type and strength grade K60 as well as steels of 09A2N and Co.20 type are used as the main structural material.
To produce oversized stamping-welded shaped articles the company has available a large fleet of various process equipment: heating furnaces for sheets, manipulators for billets supply to the furnace and stamping zone, hydraulic presses, welding and metal-cutting equipment.
The manufacture of stamping-welded pipe bends, T-pieces and passages is made by method of two identical parts stamping and their subsequent welding in vertical plane. This method guarantees the minimum thinning in a zone of maximum deformation.
The welding process is maximum mechanized and automated. Automatic and semiautomatic electroslag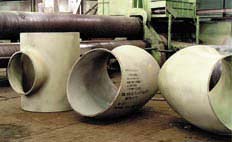 and gas shielded welding is widely used. Welded joints are 100% tested when manufacturing by nondestructive inspection (ultrasonic inspection, radiography) in compliance with standardized documents.
The required grooving geometry of welded joints is made by machining with the help of vertical turning lathes and boring machines using special accessories
---