Heat exchangers
Heat exchangers are used for thermal process realization such as heating, cooling, evaporation, condensation and boiling in all branches of industry and agriculture.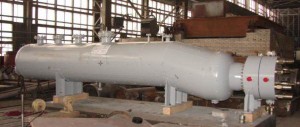 The Company manufactures heat exchangers of different types with a working pressure up to 25 MPa (250 kgf/cm2), temperature from –210°C to +700°C, namely:
«H» – with stationary tube walls;
«P» – with floating head;
«K» – with temperature compensator on shell;
«U» – with U-tubes;
«PK» – with floating head and compensator on it;
heat exchangers with coiled tubes;
spiral heat exchangers;
evaporation apparatus;
special apparatus.
The equipment is being worked out for individual projects and can be made of carbon, corrosion-resistant steels, titanium alloys and nickel-base alloys (Hastelloy «C» type).
The main advantages of the equipment are construction simplicity, compactness, high heat transfer coefficient, possibility of heat-exchange surface treatment from impurities, resistance to pressure fluctuation, vibration, impact loads, easy to assemble and dismantle.
---