Equipment for the process lines for soda production
The equipment is designed for completing the process lines for soda ash production by Solvay process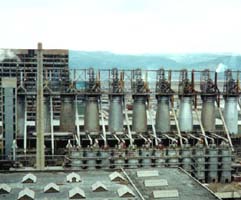 The following equipment is manufactured:
absorption column;
distillation heat exchanger;
carbonation column;
distillation column;
calciner;
crystallizer;
valves;
pipelines.
The absorption column incorporates six sections, each of which performs the specific functions:
storage of weak active liquid and ammoniated brine;
brine absorption of ammonia and carbonic acid;
distillation gas cooling.
If any section fails, it is possible its individual replacement.
The distillation heat exchanger serves for carbonic acid topping from distillation condenser liquid with the help of vapor and gas mixture.
Specification:
Equipment
description
Components
Service
Overall,
dimensions, mm
Weight,
kg
diameter
heigh
Absorption
column
Tank I
(R-I)
For storage of weak active liquid
and ammoniated brine
7168
23437
Tank II
(R-II)
For storage of weak active liquid
and ammoniated brine
2800
6715
20760
The second absorber
(AB-II)
For brine absorption of ammonia
and carbonic acid
12333
82950
The first absorber
(AB-I)
For brine absorption of ammonia
and carbonic acid, not absorbed
in the second absorber
8340
45100
The second column gas washe
(PGK-II)
For brine absorption of ammonia
and carbonic acid, supplied with gas
from the first gas carbonation washer
10103
54110
Distillation gas cooler
(HGDS)
For distillation gas cooling
1245
5612
 Total absorption column
52000
282500
Distillation
heat exchanger
For topping the carbonic acid
from distillation condenser liquid
with the help of vapor and gas mixture
3200
15950
65845
---