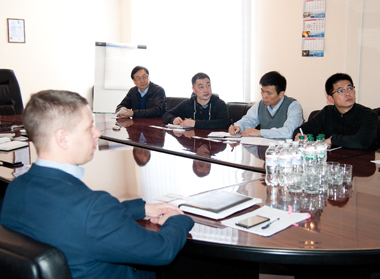 "Sumy NPO", PJSC was visited by the delegation of specialists from China Zhongyuan Engineering Corporation (CZEC), specializing in the construction of nuclear power plants on a turnkey basis. The guests was interested in the competence of the company in creating equipment for the nuclear power industry and the possibility of attracting Sumy machine builders to the implementation of projects in China and Ukraine.
According to Valery Frolov, the leading manager of Overseas Sales Division, an exhaustive presentation of the achievements of Sumy NPO in the nuclear industry was conducted for Chinese businessmen . The guests also visited the factory block of test benches of the main circulation pumps, after which they remained under the great impression, because not every manufacturer can boast of such unique test capacities.
In addition, representatives of CZEC are well aware of the existing references of Sumy machine builders, because they already had experience of cooperation with Sumy NPO in the construction of the Chashma NPP, in Pakistan, where the company shipped a number of pumping equipment.
Deputy Director of China Zhongyuan Engineering Corporation Liu Wei approvingly praised the previous experience of the enterprise, noting that this is a serious signal for the continuation of partnership relations. Actually, during the talks, the possibility of further supply of the claimed spare parts for the Chashma NPP was discussed in detail by Sumy machine-builders. In addition, there is a need for the construction of new power units at this station, and the company can become an active participant in this process. Another interesting topic, which was paid much attention, was the supply of equipment for the 3rd and 4th units of the domestic Khmelnitskaya NPP.
In the near future, CZEC plans to conduct another visit to the company, sending a group of its leading technical specialists. They should study in detail the prospects for applying in their own projects the entire range of pumping equipment, created under Sumy NPO brand.