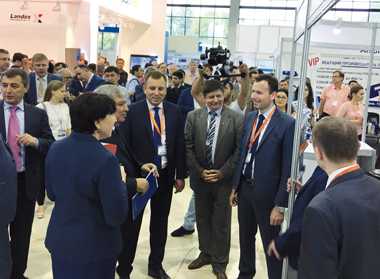 The traditional International Oil and Gas Exhibition of Uzbekistan – OGU-2017 was held in Tashkent. This time more than 200 companies from almost 30 countries around the world participated in this event. A special place on it was occupied by the stand of "Sumy NPO" PJSC. The exhibition was visited by many interested guests from both the business community and a range of influential government officials.
A group of Sumy machine-builders headed by Aleksey Tsymbal, the general director of Sumy NPO, arrived to promote the company.
"Uzbekistan is an old customer of our company. The plant's first products were delivered to this country back in 1912, after which they always tried to maintain good partnership relations. Our view is also directed towards Uzbek colleagues: they have ambitious plans to develop their own industry, and we are ready to help to turn them into reality. At the same time, OGU-2017 is an excellent platform for discussion and development of joint ways to solve set tasks," the head of the company said.
Actually, as it was noted at the opening of the exhibition, Uzbekistan plans to realize oil and gas projects worth more than $ 30 billion until 2021. The emphasis will be on increasing the production of export-oriented products based on deep processing of hydrocarbon raw materials. The program has already been approved by the President of Uzbekistan Shavkat Mirziyoyev and includes about 80 projects on modernization, technical and technological renovation of the oil and gas industry of this country.
Sumy NPO has colossal competencies in this area, so that on OGU-2017 those wishing to get acquainted in more detail with the capabilities of Sumy machine-builders were enough. Among them – Deputy Prime Minister of Uzbekistan Gulomzhon Ibragimov, who noted that he once visited the plant, and knew how high the potential has the company, so he will be glad to expand cooperation between his state and the enterprise.
According to Sergei Ivchenko, deputy head of the marketing department of Sumy NPO, a number of negotiations with potential customers took place within the framework of the exhibition. "Negotiations were on the merits. So, there was talk about the possibility of supplying a compressor line and technological equipment for the installation of a propane-butane mixture in the near future. A major project for the reconstruction of existing compressor stations is also expected, requiring a significant number of new turbo-compressor packages with process station equipment. This task is just for the Sumy machine-builders, so we are focused on an active struggle for this piece of work. In addition, there is a need for providing oil and gas facilities in Uzbekistan with spare parts and individual equipment, which, of course, is also interesting for us," Sergei Ivchenko said.