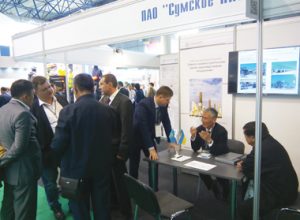 Almaty hosted the 24th Kazakhstan International Exhibition "Oil and Gas» (KIOGE-2016). The event brought together more than 200 specialized companies. The delegations from 25 countries, including: Austria, Azerbaijan, Argentina, Belarus, Great Britain, Germany, India, Iran, Spain, Italy, South Korea, Norway, Poland Russia, USA, Turkey, Uzbekistan, Czech Republic, France participated in this exhibition. Ukraine presented its manufacturers as well. Among them – PJSC "Sumy Frunze NPO", which stand enjoyed high demand from participants.
Traditionally, KIOGE brings together the leading players specializing in injection technology, storage and transport of oil and gas. And, despite the fact that due to the decline in hydrocarbon prices and the collapse of the national currency today Kazakhstan is not able to fully carry out their oil and gas development, yet the State and private companies intend to pursue modernization and point expansion of capacity of the existing facilities of this segment .
PJSC "Sumy NPO" delegates are sure that three days of exhibition were productive, because they managed to communicate with representatives of all relevant Kazakh institutions, with many already known and potential customers, to explore current industry needs, figure out the problem and pre-offer possible solutions.
According to Aleksander Korolev, the senior sales manager, there is a real interest of the enterprise products. "Our centrifugal pumps, reciprocating compressors, valves became an exhibition hit. We received a lot of applications for this product. In addition, there is demand for technological systems for gas treatment, drying and purifying plants. Also the request on the supply of plants for waste water treatment for injection into bed was got. Projects for gas utilization and production of polypropylene are interesting and expected. Sumy engineers can produce a wide range of in-demand equipment for these facilities. Their implementation is planned in the period from 2017 to 2020. Therefore, we plan to undertake without delay the preparation of our proposals for the partners ", – explains Alexander Korolev.
As for the immediate future, that there is a high probability of getting orders for spare parts for reciprocating compressors. This issue is now in active development stage.
In addition, representatives of the companies managed to make a step towards the establishment of business relations with world famous company-designer of industrial and infrastructure projects ILF Consulting Engineers.
"The beginning of cooperation with the company may open to us the way to participate in global projects in the sphere of oil and gas, energy, recycling of water resources and the environment. And considering that the ILF Consulting Engineers is developing projects for customers in different parts of the world, it becomes clear how important it is to enter the list of its approved suppliers ", – Igor Bulygin, Head of Marketing Department, said, adding that now the requirements which ILF Consulting Engineers put to potential partners are being studied.