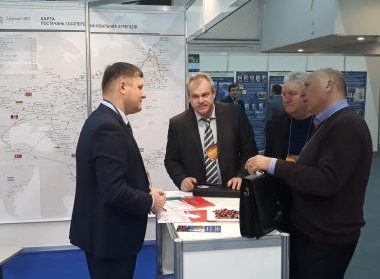 For three days, from November 7 to 9, the capital of Ukraine became the center of the world oil and gas business, gathering domestic and foreign manufacturers, suppliers, and consumers of equipment, technologies and integrated solutions of this industrial sector at the international exhibition center. "Sumy NPO" PJSC, which the present exhibition "NEFTEGAZEXPO" brought the ground for prospective projects, was among the regular participants of the event.
According to Igor Bulygin, head of the Marketing Department, NEFTEGAZEXPO-2017 turned out to be very productive. "About 100 companies from Ukraine, Belarus, China and other countries took part in the exhibition. By the way, many representatives of the European Union have arrived, especially from Poland and Germany. In a word, there was something to show and what to look at. Among the offered variety of goods and services Sumy NPO looked respected. Our exposition was visited by many existing and potential partners, with whom fruitful negotiations on cooperation for 2018 were held, " Mr. Bulygin said.
In particular he noted the customers' increased interest on the whole range of Sumy NPO branded equipment. "First of all, there is not only demand, but also a wish to buy ball valves of different sizes from Sumy machine-builders. Industrial (mine and vacuum) pumps of our trademark are in high demand in the domestic market. For this type of products, a number of promising applications with implementation next year were received. Heat exchanging equipment does not lag behind in terms of popularity. And not only in Ukraine, but also abroad. For example, Estonians have expressed a desire to place an order with us for this equipment in 2018, " the source said.
In addition, a request for the complete facility – a propane-butane mixture production plant – was received.